Are you someone who wants to be better at interacting with people at work? How are your networking skills? Do you take over conversations? Do you wish you could influence some of your peers or your boss more effectively? How do you handle feedback – both the giving and the getting?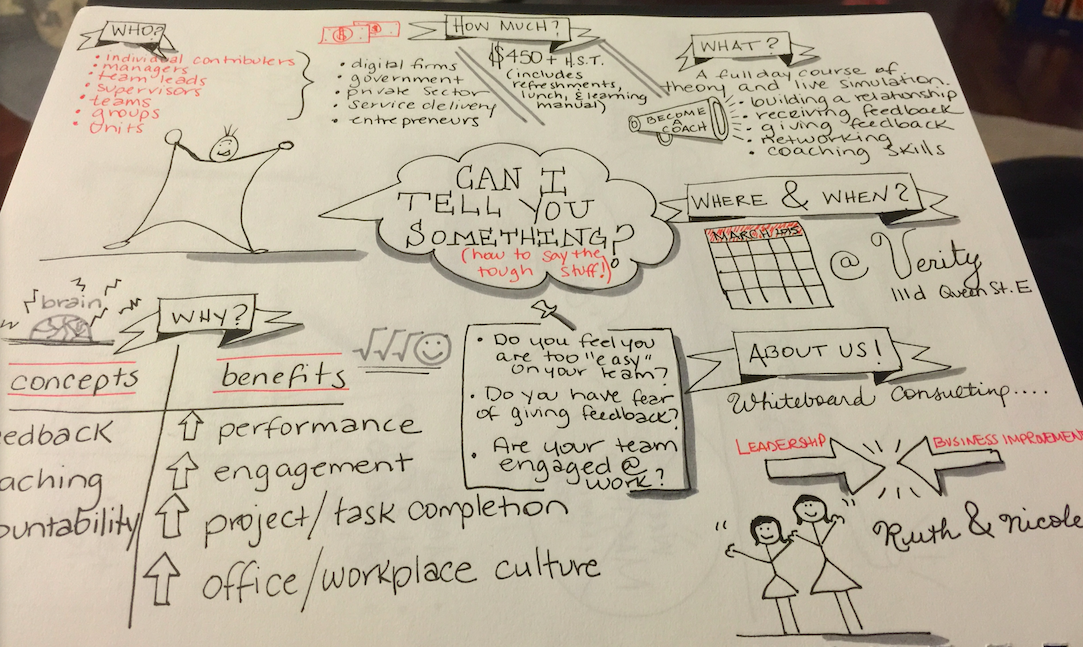 Can I Tell You Something?
We are excited to announce our newest workshop, entitled "Can I Tell You Something," focused on influencing through questions and feedback in order to build stronger and more effective relationships at work.
You may be aware that we have a very popular "Process of Coaching" course, and this workshop builds off of that material. The difference is that this workshop is less "corporate," and focuses less on Management skills and behaviours associated with coaching employees. Instead, it's about you, the individual, at any level in any job, and how you can employ coaching techniques to improve your interactions with co-workers, bosses, heck – even your family and friends! (Shh! They won't even know you're doing it.)
We will spend the morning on theory, with a few quizzes and group exercises to get your brains firing. After lunch, an actor specialized in this type of simulation, will join us and play the role of a number of different types of people in different situations. You will get to interact with the actor and practice what you learned in the morning session.
Simulated learning is extremely effective. We wrote a blog about it here. It is also a lot of fun, and we promise you will take away a number of very helpful tools. Whether you learn by reading, listening, watching, or doing – our workshop has it all, and we believe you will find it of great value.
Details
Who Should Come?
If you, someone you work with, or someone you know wants to learn any of the following, then we would love to see you:
How to influence people through language that is inquisitive and open.
How to be a great (informal) mentor.
How to provide feedback to people in such a way that they actually figure out what you want to say before you say it.
How to accept feedback and act on it.
How to handle a confrontational situation more effectively.
How to be noticed and heard – in a good way!
How to be a better networker.
Where Is It?
This workshop will be held in the beautiful Toronto Room at the Verity Club. The address is 111d Queen Street East in Toronto, and is just east of Jarvis Street on the south side. (It's an old chocolate factory!) 
When Is It?
March 11, 2015, from 8:30am to 5pm.
How Much Is It?
$450 plus HST, including a light lunch and refreshments.
If you have any questions, please email us at info@whiteboardconsulting.ca/staging.
Click here to reserve your place.
Hope to see you there,
Nicole & Ruth