Procrastinating sucks for everyone
You've got one.  Your spouse has one.  Heck, despite Ruth's diligence for to-do list's – I think even she has one.
That one task on your  list that you just
never

do.

For a while you move it to the next day's To-Do list.  But eventually you just take it off of the list.  Why? Maybe you've convinced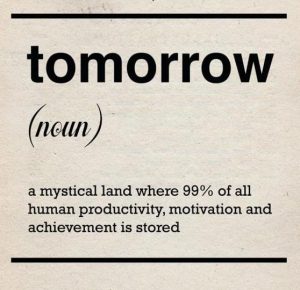 yourself you'll never get it done?  Maybe the shame of not completing it every day is making you crazy. Are you scared of the outcome? Do you just hate the task? Is it going to take too long? You have terrible time-management skills? Whatever it is, it's not a good feeling.
For me, it happened when Ruth and I had made a sales target.  And one of my lead measures (if you don't know what those are, click here) was to do some warm market networking. There was one particular individual whom I had met 4 years ago on vacation, that I wanted to talk to about our coaching course and some process improvement and other things.  And for 1 WHOLE year it was on my list.
A colleague of mine who does Sales training asked if she could connect me with anyone, and we realized we had this mutual contact, and even then I just wouldn't let it happen. I know that sounds weird.  But I just didn't follow up on it.  I didn't know why at the time, I just didn't. *
Get unstuck.
So I had the opportunity to become a certified coach this past weekend.  I thought the course was interesting, applicable to a bunch of different types of coaching, and the teacher was fabulous (click here to find out more)!
To be completely honest, it took me a little out of my comfort zone, the methodology was different, the tools were new to me – however- I was willing to try. So, be open to getting your task done and let me know if it works! It requires a little bit of imagination!
4 Steps to Getting UNSTUCK
1. Write down your goal
call the contact by Mar 29, 2016,
plan the event by April 6, 2016,
start the business plan by April 25, 2016,
get a website, draft an e-book….whatever you get the point. Just be sure to put a specific date on it: What day in March?
2. Fast forward to your goal date. Imagine you achieved that goal. Write down three obstacles that(might have) got in your way.
time,
fear of making the call, fear of not getting called back, fear of someone thinking I was being "sales-ey".
wanting to get it "perfect" etc.
3. What solutions did you employ to remove the obstacle?
I blocked time in my calendar,
I got some extra coaching to prepare for the call,
I got an accountability partner to help keep me on track,
I used a panel of advisors to make sure I got it right….etc
4. How do you feel now that you did it?
Great!
It's finally off my list!
Awesome, the client signed with me, I feel successful!
people love it, I feel accomplished!
we had 98% attendance at the event, I feel so proud!
5.  What do you know now that you've achieved the goal, that you didn't know then?
I can absolutely do this.
I'm so glad I did this now, the timing was PERFECT.
It's not that hard/time consuming.
If I put my mind to something I can totally do it.
If I have someone keeping me accountable I can get it done.
Great things come from biting the bullet and just doing it!
How does that feel?
Different? Are you motivated in a different way? I was. Let me now how it goes for you @whiteboardcons #getunstuck.
*Note: Guess who was sitting next to me when I sat down at the coaching course?  That one contact I was supposed to call.  Coincidence? Stars aligning? Who knows.
Until Next Time,
Nicole