Season Three B, Episode Four. Podcast recap! (And if you missed the podcast, you can find it here.)
Podcast Recap: Season 3b, Episode 4
In this week's podcast we focused on tips for managers to impress the heck out of their new employee by having the most awesome and fantastic on-boarding program ever. I mean, ever.
It's really not hard, and because it's sometimes easier to start from the negative,
Here's What Not to Do
Be unprepared.
That's all. Just don't do that.
Here's What to Do
It may be a while since you were new on your job. Plus, you're a manager and may not exactly know what your team feels would make a rookie feel part of the team. Remember, not only are you responsible for attracting and recruiting talent, but also for making them want to stay and be productive! If they don't feel welcome, they may bounce pretty quickly.
So, one of the smartest things you can do is to ask your current employees to brainstorm and create an on-boarding plan – they will certainly know the good and the bad of your first day on the job, and they will want to ensure the "new guy/girl" wants to stay!
This collection of ideas should be written into some kind of process or standard operating procedure that can be triggered as soon as a new employee's start date is made public. Remember, the goal is to make this person feel valued and special – like they are kind of a big deal.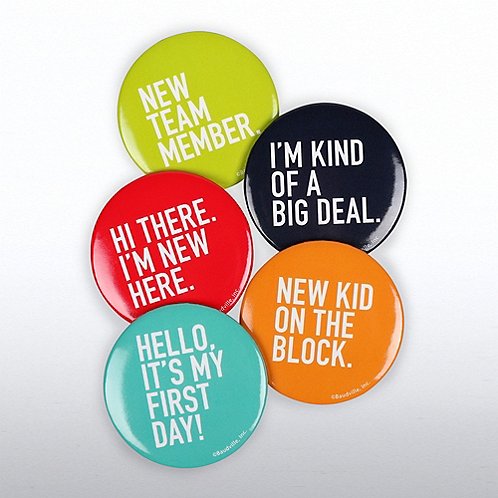 The Steps for Amazing On-boarding
Create a checklist for welcoming a new employee. Use your team to ensure it's realistic and awesome and fun.

Assign a role to "owning" the checklist. (It's important that you assign a role, not a person. If you assign this to Bob, then Bob may own it forever, no matter how many times he changes roles.)

Ensure the checklist includes:

A buddy. There is NOTHING as good as being assigned a buddy to help you navigate the ropes. If you have nothing else in your on-boarding program, have this.
A schedule for the first 5-7 days, that's designed to slowly integrate the new person into the routine. (Pretend you are a "Cruise Director," and you're planning the week to be productive and also have time to recover from information overload.) This would include a meeting with HR to sign papers or security to get keys or pass cards.
Somewhere to sit, and all the required trappings – computer, phone (either desktop or company-assigned smart phone), chair, basic stationery supplies. Oh and a nameplate, with their name spelled properly.
A printed list of login information for any required systems.
A link to "required reading."

Organizational Chart (with or without photos of people)
List of acronyms
On-boarding manual specific to the team

Where to find answers to common questions

Dress code
Corporate policies
Travel policies
Expense policies
Attendance / Illness / Vacation Policies
Internal team processes
Emergency processes
Processes for Flexible work

VPN
Expectations for hours work, being available, etc

Who does what on the team

A meeting with you, their new manager, on Day One. This is your chance to:

Learn how they like to be managed, recognized, encouraged.
Follow up on information gleaned during the interview.
Set expectations.

No, I don't expect you to "hit the ground running."
Yes, I do expect you to get up to speed gradually.
Yes, I know you'll have lots of questions, and if your buddy can't help you, come and see me.
Come and see me even if you don't have questions.
Yes, you'll have a performance plan and a learning plan, but let's talk about that in a week or two, after you get settled.
Yes, I check in with my team regularly – here's when and what I expect during those check-ins.

A formal, scheduled 30-day check in with you to ensure that their expectations have been met in their new job. You should also check in at a week, and even two weeks – it's critical you have a formal meeting at 30/60/90 days – this is important to retaining the talent you just hired.
These days it is much easier than it used to be (even perhaps expected) to switch jobs if they don't fulfill you and meet your expectations. Taking the time to make sure the new employee's first day/week/month/quarter is AMAZING, will make it much less likely that all the work you did to hire someone will be wasted when they leave quickly.
Create the plan. Do the plan. Make the person feel like a rockstar. 
Until next time,
Ruth.