This week I had the pleasure of being interviewed by Lisa Chicules, a brand and strategy expert, for her radio show "Chat With Chicules" on the Voice America Radio Network. Lisa is a real expert and leader in her field, unearthing the brand potential for organizations of all shapes and sizes. One of my favourite quotes of hers is "uncover the right insight and don't stop until it's brilliant." She may not know it, but with thoughts like that, she's not only a brand expert, but also a process thinker!
Needless to say I was both honoured and excited to be on her show. It was a first for me – talking isn't a problem, but having a big shiny microphone in front of you is a whole different ballgame. We had a blast, and I really enjoyed our topic: The Process of Managing Change. (You can listen to it by clicking here.)
Because everything is a process, right?
Right. If you've been following our blog for a while, you know that we believe a process is a process is a process, whether you are making a martini, filling out your tax forms, or implementing a major new project or change initiative in the office.
And yet, as Lisa pointed out, so many organizations struggle with the process side of change. They focus on the "Big Shiny Goal" and forget about all the little things that go in to making that goal successful. "Why is that?" Lisa wondered.
Well, frankly, it's because the Big Shiny Goal is more fun. It's sexier, it's what gets noticed, and it's where a lot of Senior Leaders spend their time and energy. Then when they've developed this latest and greatest thing, they pass on their idea to someone else, say "Make It So," and then move on – you guessed it – to the next Big Shiny Goal.
The problem is that "Make It So" doesn't even begin to convey all the information required by an implementation team to make the Big Shiny Goal a reality. As it turns out, there's quite a bit of context required in order to support the process (yes, process) of managing the implementation (or change) effectively.
John P. Kotter, business guru and best-selling author, developed a model that shows the 8 Steps of effective Change Management. Thankfully, I'm only going to focus on the first one because in my humble opinion, it's the most important.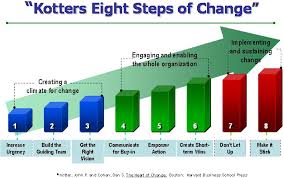 The first step in our process is to create a sense of urgency. In other words, provide the context that is SO STRONG, that people will understand the reason for the change and why it has to happen right now. They may not love it, but they'll get it.
For instance: let's say you have to move your office to a new location. There are two ways you can announce this to the team:
The usual way: "Hey everyone, in three months we will be moving to a new office location on the other side of town. Now before you get excited, let me tell you how amazing this new building is – first of all, it's all floor to ceiling windows, so it will be really bright and you'll all have a window seat. Secondly it has a fully equipped kitchen, a Starbucks in the lobby, and gym membership is included. And finally, the elevators are all brand new so you won't have to wait for ages like you do in this ancient old building. Ha ha ha. Isn't this great?"
What they hear: "Hey everyone, in three months we will be moving to a new office location on the other side of town. That's right, an extra 30 minutes commute for you, and a completely different location from your wife. You may even have to get a second car. And you know your kid's daycare that's right across the street now? You probably won't be able to pick them up by the 6pm cutoff any more. Oh and one more thing, there is no public transit, and it's $6/day to park."
You see, people don't hear benefits right after a change announcement. They are overwhelmed by the impacts on their personal lives, and they they start to think – what the heck are they doing this for? This is awful!
Now let's try to re-frame using the "hot problem / cool solution" concept, in which we state a problem that EVERYONE wants to avoid, and then provide the solution. This creates a sense of urgency that people can buy in to.
The better way: "Hey everyone, we have a fairly urgent issue to deal with, and I want to share it with you and tell you what we've come up with. As you know, budgets are being cut, and we've had to come up with $1.2 million in cost savings over the next three years. As you can imagine, there are a few ways to do this and we've been trying to figure out the way that will have the least impact on this team. In order to keep this team and its operations whole, we are going to have to move to a different office on the other side of town. I know this is going to have an impact on some of you, and I want to discuss it with each of you personally and see if we can come up with a solution."
Only then is it ok to start talking about benefits.
The second step in our process involves setting metrics so that people know if they are winning. Stephen Covey's The Four Disciplines of Execution talks about the need to have a scorecard that is displayed in a public place so that everyone knows if they are meeting their goals. It sounds simple, yet so many organizations miss this piece and fail to set their goals in a measurable way at the beginning of the change or strategic implementation.
What are your Key Performance Indicators (KPIs)? Note the word KEY. If you have more than 5-7 KPIs in your organization, then they are not the key metrics. Do you have a big spreadsheet with 20+ measures that are tracked regularly and reported to a large group?
Yes? Well that's too many.
Many operational areas must track dozens of measures. That's normal. But don't call them Key Performance Indicators and share them with the whole organization – it's not relevant, eyes gloss over, and the important story is lost.
Business analytics is all about telling the story, helping people understand what they are measuring, whether they are winning (on track), and if not, what some possible root causes may be. It is imperative that these metrics are set out at the beginning of any implementation.
Finally, the third process step I discussed with Lisa was effective communication. If you have ever participated in an employee engagement survey, then you know that communication is almost always in the top 3 things to improve. Why is that? Why can we never get it right?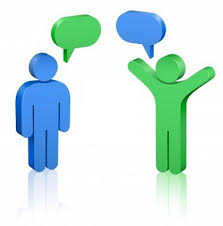 I believe that too many of us communicate with others in the way that WE like to be communicated to. That is – I like eMails, so I send eMails to everyone and think I've done an awesome job communicating.
The problem is, many people don't read those emails, so I haven't communicated with them at all.
But that's their fault, right? Shouldn't they have just read the emails?
Yes. And by saying so, I'd be right. I'd also be really ineffective.
The great leader considers the people to whom he/she must communicate – all their differences in language style, medium preference, and even cultural concerns – and adjusts their communication accordingly. It might mean an email to some, a phone call to others, and even a quick face-to-face with a few others. It may seem like a waste of time, but it really isn't.
Easy peasy, right?
Well maybe not. This is an awful lot to think about, even though it's only three steps. And yet these things are absolutely essential in implementing a successful change. Miss out on any one of these things, and the best project plan in the world will not save you.
Remember:
Set up the right metrics at the outset.
Use Change Management theory to ensure you have set the context.
Communicate to be effective, not just right.
If you'd like to listen to the radio broadcast I did with Lisa on this topic, click here and it will take you right to the recording. You can also download it from iTunes as a podcast if you search "Chat with Chicules" and look for the episode on The Process of Managing Change.
Until next time,
Ruth.