We do quite a bit of networking for business here at Whiteboard.  It can be alot of fun, and it can be draining and frustrating.  Networking is a great way to build your business. An even more profound way to look at it is to imagine the people you meet as your sales team!  Instead of trying to sell YOUR product or service to everyone that you meet, what about learning about ways that the both of you can act as referral partners for one another?
It is painful to see how poorly networking can go if not done properly. Someone is selling you something you aren't interested in, AGAIN! How do you find the RIGHT people to network with, and most importantly how do you break the ice with that person? (Any APP developers out there? I have a genius networking app I've been dreaming about…..)
Ruth and I consider Whiteboard to be that sweet spot between process improvement and leadership.  The same self-discovery coaching principle we teach to leaders and managers applies to networking. Good ice breakers help build the right connection, without you "selling" to them before you've built a relationship.  Networking is like coaching.  Get your network partner to self-realize that you are someone they should do business with.
3 Steps to Becoming a Power Networker
1. Tell me about…/Tell me more…
So often we get so excited about our business that we just go wild. Use these first two phrases to learn and discover more about the person you are talking to.  One of our WORST networking experiences is 3 days after we'd just gotten a new website, we met with a website developer who started an hour-long networking session telling us about how we should re-do our website.  Let's just say Ruth had her director face on. She was not happy.  Or last week, when the divorce attorney asked us both within 30 seconds if either of us were married. Yuck.
Tell me about/ Tell me more about:your business, your clients, how you got started, your business partner, your employees, your personal life.
What ever YOUR angle is, get people to start talking! Pick a specific "nugget" and get them to tell you more. Actively listen for more nuggets so you can ask more questions.
2. That sounds a lot like XYZ….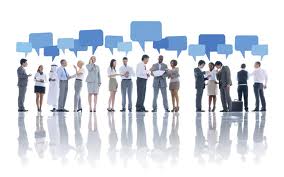 Use this information to tell a SHORT brief story about how something in step 1, happened to you. Don't go on-and-on.  And despite your brain DYING to tell this person how your business, idea, product will be perfect for them, take some time to go to step 3.
I've had a similar experience. Can I share a similar story with you?
You are building a RELATIONSHIP.  Not a buyer and seller interaction – but a real relationship with this person!
3. LEVERAGE & Ask more OPEN ended questions.
What are open ended questions?  Any question that does not yield a yes or no answer.
How is XYZ working for you?
What kind of feedback do you get on XYZ?
Take your nuggets and get them to ask you more.
This is also a great time to set the stage for a followup conversation (especially when you are at a networking event and want to speak to more people):
I would love to know more about you/your XYZ, When do you have some time next week to chat?
You've really got me thinking about you/your XYZ, and I'd like to pick your brain about it some more. When are you available?
Wait, Nicole got blogitis again, and  she forgot to tell me about the part where I get to pitch my business.
No, I didn't.  You don't get to pitch your business.  GASP. In fact, I'd like you to wait until they ask you the open ended questions about you and your business. Remember that people learn coaching techniques and networking techniques by observing others.  Be their role model.
And even when I am talking about our business, I'm still asking more questions that they may be a little more self interested in, like:  Tell me about process improvements that you have worked on? Tell me about how it worked? Tell me about the types of training that your company offers/delivers/has done in the past? How did it go?
And because we are like that, I made you a quick little Networking Planning Checklist so you can prepare for your next event. Good luck!
Networking horror stories? Did these tips help?  Let us know @whiteboardcons #Networking.
Stay tuned as we feature the speakers in our Leading Process Change Course for the next few weeks.  Learn more about the special expertise they bring to the table!
Until Next Time,
Nicole