After enjoying a sunny and fabulous yoga retreat at Anamaya Resort in Costa Rica I am now back to the daily grind. I spent 7 days enjoying the most fabulous organic food (grown on Anamaya's own farm), getting my chakra on with the most amazing Yoga/Dance/Everything Instructor, Melissa-Jane Shaw, meeting a fabulous smart group of women (and one lovely man), Salsa dancing and busting a move to Beyonce, and above all, estro-bonding with my bestie, Yaryna.
While sometimes blog ideas elude me, this one was as clear as the Costa Rican sunrise over the Pacific Ocean: Things don't have to be done the way they've always been done. Do them so that your customer is surprised and delighted. (Click to Tweet).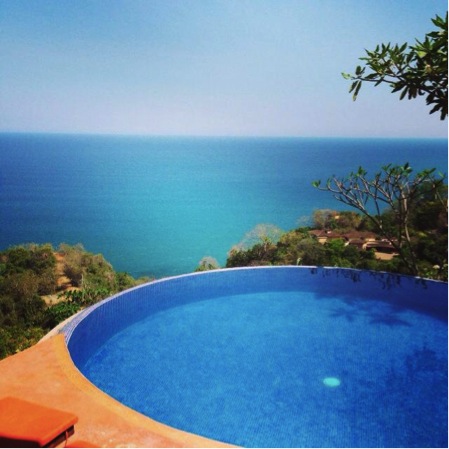 So I've been to a ton of resorts, spas, retreats, hotels, motels, all-inclusives, B&B's, Inns, timeshares – you name it and I've probably been there.  What's the first part of the process when arriving at your destination? Checking-In.  Whom do you likely deal with most during this transaction? The reception desk.  Some do it really well, others have trouble communicating, others are bombarded with clients. Now, Anamaya has this down pat:
You arrive, a delicious smoothie is placed in your hand, and you are directed to enjoy the most stunning view you have ever seen. There's a little house where you do the check in – you are then introduced to your receptionist for the day.  She's in the kitchen, helping prepare for communal meals in the main house, helping you at the boutique to buy fabulous yoga wear, arranging taxis, booking spa treatments, grabbing you a glass (or 3) of white wine.  You name it, she's on it.  It worked so well, and created such an amazing family atmosphere, that tears are shed on the last day of every retreat without a doubt! The best part is she's quietly and un-assumingly documenting your purchases, so that checkout (back in that little house) is a clear, transparent breeze! It was literally genius. Literally. I can't even.  Those folks deserve the Whiteboard Process of the Year Award (wait – Ruth – we should do that!).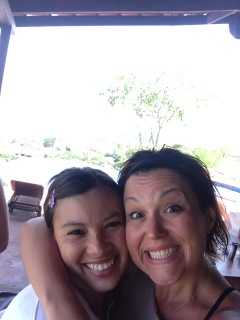 Me & Gretel one of the receptionists that I absolutely LOVED! Sorry for my yoga hair and crossed eyes (selfies –ugh).
So what's the moral of the story? Don't be afraid to try something new with your business model.  Here are a few tips on trying out a new business model for interacting with clients:
5 Tips to a business model that surprises and delights
Seek unique business models from your industry competitors for interacting with clients. Try them. Use them. Figure out what works and what doesn't.
Take a leap of faith.  It's not easy, but it doesn't always have to be the way it's always been.  Change is hard guys!
Test and trial them out.   See what will work best for your environment. Clearly the model I described above won't work at the Four Seasons in downtown Toronto.  Find out what works for you and your customer.
Survey your customer.  Get their feedback, input, and suggestions for improvement. You'll know you have it right when you have raving reviews.
Process. Process. Process.  Think I forgot? I think not.  Document and standardize your processes so that you can continuously improve and monitor your progress.
Do you have any examples of a unique business model that worked?  Tell us about it @whiteboardcons!
Do you believe you should win the Whiteboard Process of the Year Award?  Let us know  – we'll throw you a fancy party and celebrate your awesome process (whether we helped you with it or not!).
Until next time,
Nicole