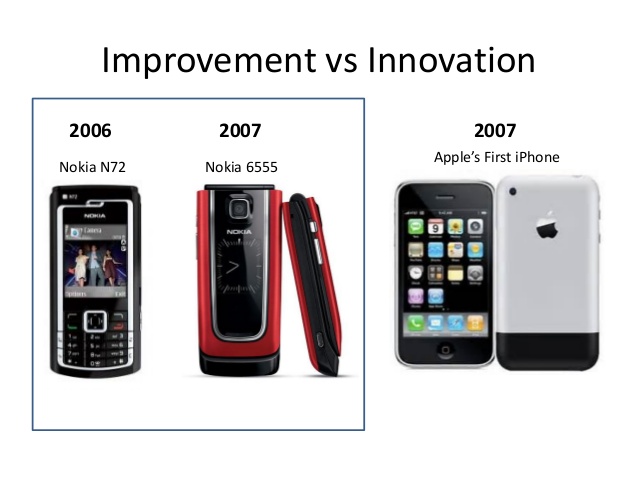 Have you ever heard people use terms interchangeably that are really quite different? Does it make you cringe inside?
It's like nails on a chalkboard when I hear people say "performance management" or "mentoring" when they mean "coaching." Or when they say they need someone to "facilitate" when they actually mean they need someone to "train." And one of my favourites: "leading" vs. "managing."
Another, and the topic of today's blog, is Innovation vs. Improvement. This mix-up, while seemingly innocuous, can lead to real organizational design issues, confused roles & responsibilities, and broken down processes.
Potato Po-tah-to?
The thing is, these groups of terms aren't the same at all (although they can be related,) and yet people seem to use them as if they are synonyms. I'm not sure why, although I suspect it has to do with business culture that loves to invent words (incent, for instance), create catch phrases and buzz words (like Dashboard or Viewability), and even completely misuse words (like Key Performance Indicator for every single metric in an organization. Ummm… "Key" means "most important," not "all encompassing.")
In our course The Process of Coaching, we spend some time discussing what it means to coach vs. mentor. I hear the two phrases used jointly all the time:
"You need some coaching and mentoring."
"Do you have a coach or mentor?"
"Let's set up a coaching/mentoring program."
The same is true of Innovation and Improvement.
"We have a great Innovation and Improvement department."
"What we need to do to at this company is improve and innovate."
"I'm the Innovation/Improvement manager."
My Dad had a great phrase, and I think it helps here:
" All crows are blackbirds, but not all blackbirds are crows."
So all (or almost all) Innovation is Improvement, but not all Improvement is Innovation. The following diagram shows what I mean more clearly: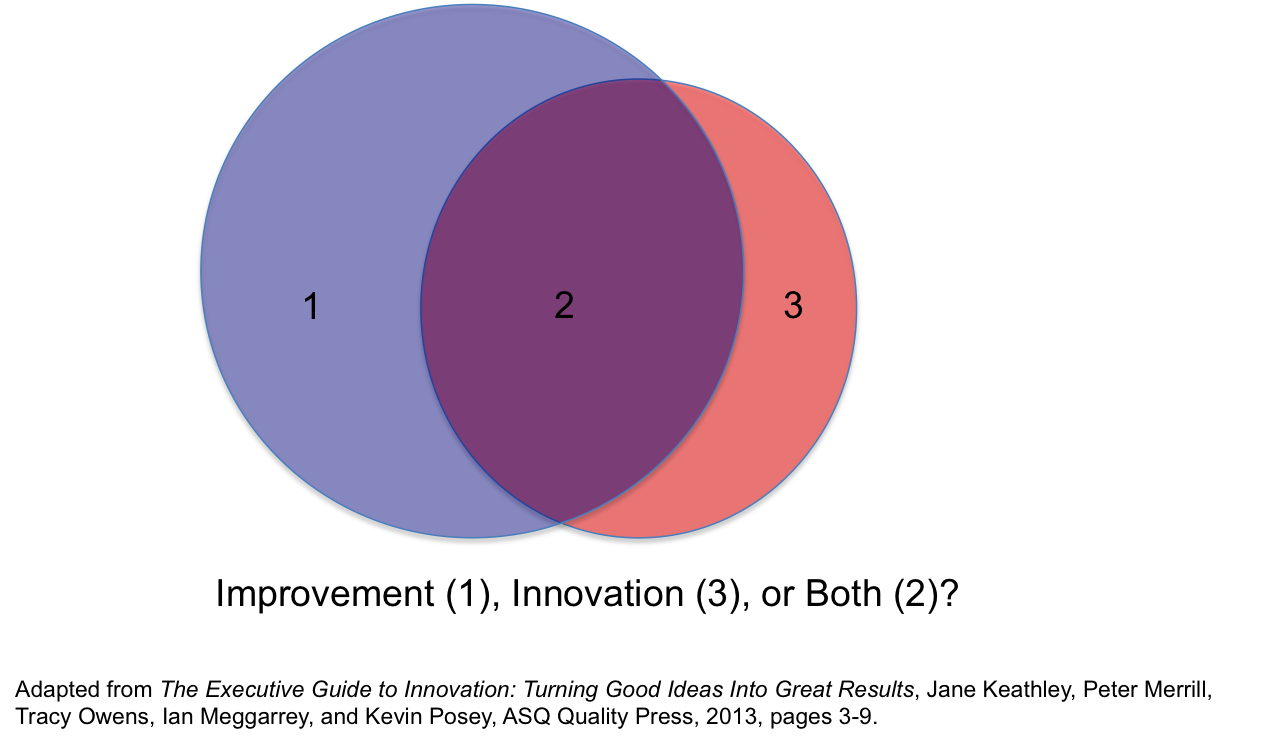 Why is this important?
Some of you may be thinking, "Oh come on. It's just semantics." Well, actually, no. It's not.
Lets take a look at what makes these terms different:
Improvement, or process improvement, refers to looking at how something is done – the steps, roles, and materials used – and making it more effective and efficient (Side note: effective and efficient are two more terms that are often used interchangeably. Effective means doing something with high quality. Efficient means doing something in a way that makes the best use of required resources – either the company's or the customer's.) This could be something like boarding planes by zone instead of rows, bankers lines instead of individual lines, or even something simple like improved signage in busy places.
Innovation means doing or creating something that is new in order to grow, keep up with competition, or be groundbreaking industry leaders. It can be a new process (for instance, the ability to tap your credit card at many stores), a new product that changes the way we live (smart phones), or a new business model that changes the way we interact with organizations (online shopping). You can see that the new process of paying by tap is also an improvement to how you pay today, whereas online shopping was an entirely new model, never conceived of before. Does it improve things? Some would debate that! But it certainly changes things.
In "Coaching for Improved Work Performance," Ferdinand Fournies said that the biggest reason for people not doing what they are supposed to do is that they don't know what they are supposed to do.
Sounds so simple!
If we fail to distinguish between Innovation and Improvement, we fail to be clear in our message of expectations to our employees. Is an Innovation & Improvement team supposed to increase efficiency or lead groundbreaking change? A manager with skills and background that is heavier in one area than another could influence the direction of the team greatly.
In fact, the two goals are different enough that they could be at odds if not managed correctly. Imagine asking for project approval – which one gets higher priority in the budget? Or, think about what would happen if you hired a bunch of Process Improvement experts and asked them to be creative and innovative as well? I would argue these are very different (although not mutually exclusive) skillsets.
If you want both Innovation and Improvement, make sure that the team or teams are clear in what their goals and responsibilities are. And if both Innovation and Improvement are under the accountability of the same person, make sure he or she has a clear and balanced plan for each.
It's not just semantics. It's important.
Until next time,
Ruth.