I've been thinking lately about our human tendency to follow the pack and my newfound tendency of "going rogue." I'm a trusting person and easily influenceable. If you tell me this is the BEST HAND CREAM EVER, I will buy it.  If you tell me you tried a new workout and it was THE HARDEST WORKOUT EVER, I will go and try it tomorrow.  Ask me to smell this milk because it is the MOST EXPIRED MILK EVER, I will get my nose right in there.
So it's a newfound habit for me to say, "That's awesome that it is working for you.  Right now I'm doing this, and it is really working for me too. Yay us!"
But Everyone Says So!
People (and probably some science reports too) say that we MUST eat breakfast; doing so helps us consume fewer calories later in the day and maintain a healthy weight and may even improve our concentration and productivity. They also say we shouldn't weigh ourselves every day because it could case us to become over fixated on what may be natural fluctuations rather than indications of weight gain or loss.
"They" say we shouldn't look at our phones first thing in the morning – it can distract us from our morning routine and can decrease our productivity by focusing on external priorities rather than our own.
And we mustn't work out every day, because our bodies won't have adequate time to recover and we won't get results.  
Don't get me wrong, I realize there are studies and science  that may back these statements up with statistical significance.  But here's the thing: all of the "pack ideas" I talked about above don't work for me.
When I eat breakfast, I'm starving all day and (after testing this theory out by tracking and monitoring the data) I consume more calories than are necessary for me to maintain my weight. So do I keep doing it because everyone else is telling me that is the right thing?
Similarly, weighing myself every day keeps me on top of fluctuations that could otherwise be more dramatic after a week.
And I LOVE working out.  Provided I balance my workouts, it is my stress relief and my time that makes me happy. So why should I be unhappy, provided I am being safe and taking care of my body, when my way works for me?
And finally, if I don't check my phone before bed AND first thing – guaranteed I will miss a meeting, or miss a cancellation of a meeting and make an unnecessary trip.
Now statistically speaking these "rules" might be great for the majority of people, and the majority of people will see better results following these rules.  But, as we know, there is a great deal of human variation.  I am a sparkly unicorn and I am different.  These rules do not work for me.
The thing is, it's easy to follow the pack.  It's part of our human nature.
…social conformity is based on mechanisms that comply with reinforcement learning and is reinforced by the neural error-monitoring activity which signals what is probably the most fundamental social mistake – that of being too different from others

Read more: http://news.softpedia.com/news/039-Follow-the-Crowd-039-Tendency-Finally-Explained-102066.shtml#ixzz4ASKrOwCW
Follow The Pack? Or, Go Rogue!
Maybe your competition uses a certain process improvement methodology (like Lean or Six Sigma), or a particular sales tool, or social media strategy and you want to implement it to keep up with the trends. But what if it just doesn't work for YOU (and your team, and customers, and stakeholders)?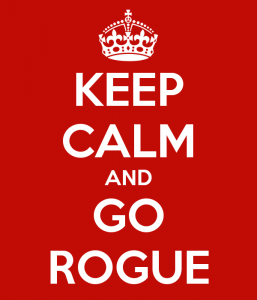 Does it feel natural to do what the pack is doing?  Sure, good habits take time and consistency, but if the process is so difficult that you can't get the habit to stick, maybe it isn't the right strategy for you.
 Have you experienced errors, defects, or problems using the pack's idea? If you notice missed deadlines, faulty products, decreased employee engagement, or increased customer complaints – maybe you need to re-examine your plan.
 Have you tried and tested any other options? If you haven't tested and tried out alternatives, how do you know that this is the best for you?  How can you make a decision with out data – numbers or experience? Reflect on the past – was there a time that you were doing really well?  What were you doing?  Should you align with the pack, or "go rogue".
Let us know how you follow the pack or go rogue @whiteboardcons #gorogue or #followthepack!
Until Next Time,
Nicole