How an Extrovert Became Introverted
I'm having an identity crisis. After years of being the world's biggest extrovert (to quote one of my friends, who I do not believe was attesting to my outstanding theatrical ability , "…the most dramatic person I've ever met."), I think I've become an introvert. Here's the kicker.  I'm strangely not upset about it, given my historic distaste for those weird quiet folk. I might be actually sighing in relief and embracing my new me.
Our training curriculum on leadership, communication, relationship building, change management, and coaching focuses a great deal on both self-awareness and diagnosis of the personality and communications styles of our teams, peers, and colleagues.  To better how to understand others we must better understand ourselves (click to tweet). With this recent revelation on my newfound introversion, I am suddenly in a place to re-discover and understand my new self. After years of being horrified at the reserved, quiet, and thoughtful personas of my introvert friends because I couldn't understand them, I suddenly have to be one. And maybe rather than my standard self-loathing/self-deprecating comedy routine, I can instead learn to leverage those introverted characteristics that I once loathed.
Extroverts have long been touted as great leaders, and in fact many introverts have adopted extrovert traits to better fit in to the traditional mold of extrovert-leaders. A plethora of management material focuses on how extroverts can better deal with introverts or how introverts can be more like extroverts.  But maybe just like me, the times are changing and we can embrace and leverage our quiet and thoughtful allies more strategically.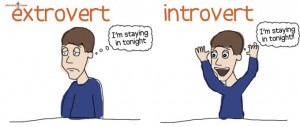 Let's Review: Introverts Vs. Extroverts
Extroverts
Outgoing
talkative
energetic
assertive
likes to lead
prefers group activities
derives energy from other people
Introverts
reserved
derives energy from solitary behaviour
enjoys activities alone or one-on-one (rather than in groups)
analytical/detail oriented
observe before participating/speaking
thoughtful
make up a smaller amount of the population
enjoy working independently
Managing the "others"
Exploit the Extroverts
Let them lead.  As a former extrovert, please let us take the lead on something.  Please let us interact with ALL the people. Even if you cannot trust us to be the boss of everything, give us SOMETHING to manage.  Give us the OK to assert ourselves, burst with energetic excitement, and try not to drive everyone else nuts.
Leverage their social credits.  Extroverts love to network – so let them.  Let them handle luncheons, breakfast networking meetings, boat cruises and so on and so forth. Then, go back to #1.
Invigorate the Introverts
Let them think.  Let the early talkers talk. Let the opinions be heard.  And then invite the thoughtful response of the introvert be heard, when they are ready. Don't assume just because they haven't said anything yet, that there isn't something brilliant lingering in there.
Let them recharge.  Let them have time to re-coup and re-energize – alone.  Then, they are ready to go back to #1 and think some more.
Back to Me.
So what happened to me?  To be fair, there is still a great deal of extrovert lurking there within me.  Introversion and extroversion aren't categorical, they are on a continuum.  Maybe I'm just visiting the introvert side for a bit?  Some theories suggest that introversion tends to express itself more as we age (like wrinkles and grey hair weren't enough to worry about).  Others suggest that our needs at a certain time in our lives dictate our expression of these personality traits.  This makes sense, after 10 years of doing alot of independent desk work, I'm suddenly facilitating, teaching, selling, and networking 24/7 .  Previously I derived my energy from social activities. And now I derive energy from a day-ful of teaching, but need a Netflix marathon or four hours of obsessive reading of a certain Scottish Historical Fiction Saga in order to recharge.
After years of interrupting you to tell you about my story, I'm much happier listening to yours and silently judging you (JUST KIDDING!). Maybe I'm old. Maybe I'm tired. Maybe I'm "on" at work and need to be "off" the rest of the time.  Whatever the cause, I'm embracing the new me.  And embracing all those creepy quiet introverts I interuppted for the last 34 years. Sorry guys. I get you now. Want to share your introvert/extrovert transformation?  Talk to us on Twitter @whiteboardcons using the hashtag #introvertsarethenewextroverts #exploittheextroverts or #invigoratetheintroverts.
Until next time,
Nicole