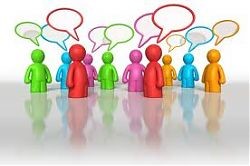 Voice of the Customer, or VOC, is perhaps one of the more misunderstood concepts in businesses today.
Everyone is pretty good by now at identifying their customers, both internal and external. What remains challenging is setting performance metrics that represent not only internal goals and objectives, but also reflect the wants and needs of those varying customer groups.
Do your organization's key performance indicators (KPIs) reflect your VOC?
"Yes, we determine what our customers want each year."
OUCH!
That's not even hyperbole. Many organizations have well-intentioned strategic discussions in order to document their customers' needs for the coming period. They "put on their customer hat", brainstorm, and then translate that into targets for performance.
A for effort. F for execution.
What's missing?
How about actually asking the customer.
Customer information can be gathered informally (feedback from social media, information from contact centres or snail mail) or formally (surveys, focus groups). Whatever the method, it's something that just has to be done in order to be successful and engage the customer of your products and service.
Don't tell me what success looks like to me!
Consider the following: Acme Book Company has a strategic and focused performance scorecard detailing its KPIs. One of those is delivery speed, measured by the time the order is received to the time the order is shipped. The target is 7 business days.
It seems logical, and yet there are a couple of flaws.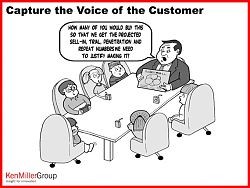 What does the customer care about when the order is shipped? They care much more about when it is received. The company might retort that they have no control over the postal service, which may be true to a certain extent. However, it's still relevant, as it's important to the customer, and may even spur ideas for alternate delivery methods.
Is 7 business days the right target? Do customers care about business days vs. days? In this day of speedy shipping and instant delivery of eBooks, is 7 acceptable or a little slow? Have they asked their customers?
If your organization has made the effort to set KPIs, it's well on the way to doing the right thing in measuring and collecting performance data. The next step is to add in the VOC and measure the things that are Critical to the Customer from the Customer's Point of View! Click to Tweet
What kind of metrics do you use? Give us a shout via Twitter @whiteboardcons using #betterfastercheaper or email us at info@whiteboardconsulting.ca/staging.
Until next week!
Ruth