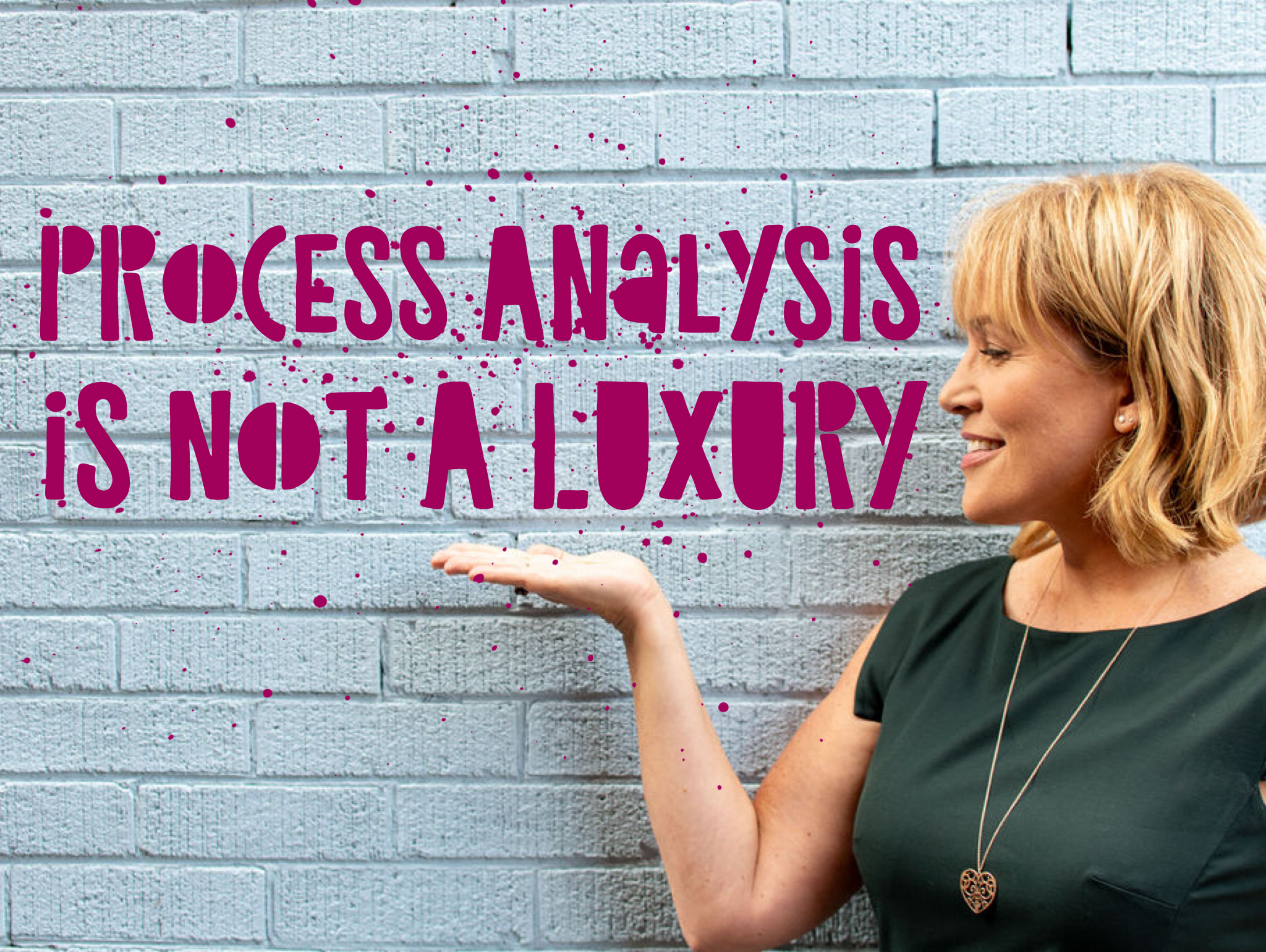 Election years are fascinating to me.
I live in Canada, and although our next federal election isn't until 2023, I feel like the current election year in the United States is as important to me as if it were right here at home.
Why?
Well of course we share the longest border in the world with the United States, and we know that pretty much everything that happens there impacts us economically, socially, and even politically.
But there's something else that's been bugging me this year, as I watch the debates and wait for the results of the caucuses and primaries.
The failures of the caucus processes are being blamed on the technology, which is causing people to call for a regression into manual paper voting.
It's a classic cause and effect error.
The technology failed, yes.
But the cause of that failure was human error, and the cause of the human error was poor process planning.
Or perhaps no process planning at all.
We hear it all the time —"process planning is a luxury. We don't have time or budget for that. Just make the change and we'll fix things later."
Here's the truth:
Any change that is implemented without first understanding the supporting processes is doomed to fail.
The hysteria surrounding the recent caucus in Iowa and the upcoming caucus in Nevada is a perfect example of how process thinking should never be considered an option or a luxury.
(And why your business or organization needs to pay attention and learn from Iowa's mistake.)
---
A Perfect Example: The Iowa Caucus
On February 3rd Iowans took the first step in selecting a candidate to represent the Democratic Party in the upcoming elections in the United States.
[In case you're interested, each of the states and territories vote to allocate their delegates between the various potential candidates. At the final convention, the person with the required number of delegates goes on to be the candidate on the ballot in November. It's a complicated series of primaries and caucuses and is rooted in tradition that should be overhauled — but that's another story. If you want to read how it works, you can look HERE.]
Traditionally the first state to participate, experts and campaigns look to the Iowa results as an important bellwether on how the race is going, what the issues are, and who is out front.
And, since the Democratic Party is desperate to elect the person most likely to beat Donald Trump, they are also determined to ensure each vote is safe, untainted, and accurate so that no one can claim otherwise and cast doubt on the results.
Enter technology.
Who doesn't love a good mobile app?
They're easy, fast, sexy, and — obviously — modern. You know, like we should be in the 21st century.
In fact, in 2016 both the Democratic and Republican parties used mobile apps to report voting results with great success.
So a few months ago (literally, a few months) the people in charge of the caucus process in Iowa bought a new app from a new company and launched it for the February 3rd vote.
It failed spectacularly, with the final votes still unknown weeks later, and created chaos and panic that is impacting the next caucus (which is also using an app) in Nevada on February 22nd.
What Went Wrong?
There seem to be as many opinions on that question as there are people willing to write about it, but it seems to come down to 6 things:
The app failed due to coding issues.
The app required a third party system (i.e. NOT the usual app stores) to download it to the user's phone, adding complexity.
Training was ineffective or nonexistent.
The process for recording votes was also new.
Some users randomly decided not to use new processes and technology, and "did things the old way" using paper and phones.
Phone lines couldn't handle traffic.
The Impact
Although the actual voting results and associated delegate allocation from the Iowa caucus are unlikely to change from what was "guesstimated," there will be a review of all the numbers, eventually.
Perhaps the biggest impact is that media is focusing on how bad technology is, stirring up fear and a demand on behalf of voters (and pundits) to return to paper-based voting.
Check out this quote from Wired.com:
The Iowa results will come in eventually, thanks to a paper trail. But it underscores just how much can go wrong when you lean on unnecessary, untested tech. ~ Wired.com
If the writer simply added "without the necessary focus on process analysis" to the end of the sentence, I would agree.
But they didn't, and I don't.
In fact, paper balloting has been plagued by documented examples of fraud for years in the form of misleading or confusing ballot papers, ballot stuffing, mis-recorded ballots, and destruction or invalidation of ballots.
Something clearly needs to be done to modernize paper balloting. Suggesting that the solution to the Iowa debacle is to go back to paper ballots is like suggesting we focus only on gasoline-powered vehicles because electric vehicles aren't yet perfect.
The Real Issue
The problem wasn't coding, or training, or a new process for collecting data, or a lack of phone lines.
No.
What really went wrong in Iowa was a shameful lack of planning, risk analysis, and, perhaps most importantly, process analysis.
If there had been proper process analysis, errors and failures would have been caught and mitigated before the new processes were launched.
States yet to participate are putting extra attention on their voting processes and technologies, and there are already indications that Nevada is in trouble.
Campaigns said they still have not gotten the party to offer even a basic explanation of how key parts of the process will work. Volunteers are reporting problems with the technology that's been deployed at the last minute to make the vote count smoother. And experts are raising serious questions about a tool the party has been feverishly assembling to replace the one scrapped after the meltdown in Iowa.

"It feels like the [state party is] making it up as they go along," said one Democratic presidential aide, who spoke on the condition of anonymity to discuss the process. "That's not how we need to be running an election."
How is it possible that in 2020 there are major organizations and events which have not invested properly in process analysis?
How is it that no one sat down to map out how the new app would support the new process, who would be required to use it, what the possible failures would be and how those could be mitigated, and how training and testing would highlight any other considerations?
Process analysis is just not a luxury anymore. It's not something that organizations should do "if they have time." It is a requirement for successful change implementation.
The following quote about the Iowa mess is from The Intelligencer, and captures the issue beautifully:
What should scare Americans about the events of Monday night isn't simply that we're leaving important elements of the political process in the hands of untested and insecure technologies, but also that those technologies are being inserted into the heart of a system with so little resiliency that even minor, surmountable problems can send the entire media-political complex into meltdown mode — technical failures being amplified by institutional failures being amplified by communications failures, cascading over one another in a breathtaking display of panicked incompetence. ~The Intelligencer
No resiliency.
Institutional and communications failures.
This is what process analysis is designed to prevent.
---
OK, But What About Regular Businesses?
I get it.
You're not in Iowa or Nevada or even the United States.
You work in a regular corporate environment, and you're not quite sure how this Iowa caucus failure applies to you and your organization.
Here's an example:
Let's say you decide that your team could be more efficiently organized, so you work with a consultant and come up with a brand new organizational structure, with new reporting relationships, roles, and responsibilities.
No one got fired or laid off, so you work with HR to make sure all the job descriptions are updated, draw up the new org charts, prepare your corporate communication, and announce the change.
What could possibly go wrong?
Lots of things.
When you change reporting relationships and move people around, there are natural questions with respect to how business should flow now.
Maybe you reorganized the Finance Department and moved the Compliance team under Legal.
Before the change George, in Compliance, sat right next to Ana who works in Accounts Receivable. They had an easy casual process for handing off documentation and it seemed to work well.
Now that George sits on a different floor Ana has assumed that George has everything he needs, even now that Ana and her manager have made some changes.
George has no idea about the changes, and has been submitting incomplete reports.
Why?
Because no one looked at the old process and how things should work in the new reorganized scenario.
One of the most common changes occurring right now in companies and teams is reorganization, and the number of those projects that do not include process analysis would shock you.
Why Isn't Process Analysis A Given?
Because it's considered a luxury or something you "do later."
Kind of like change management (but don't get us started on THAT!).
Process analysis is as necessary as making sure HR signs off on job descriptions, or making sure that legal approves contract changes, or making sure that finance signs off on business cases.

It's simply not a luxury. Not anymore.
The Seven Things You Should Do When Considering A Business Change
Don't be like the caucus leaders who haven't looked at processes and potential failures.
Don't be like the corporate leader who believes their change idea and plan is clear and obvious, and who thinks that process analysis is just a buzz word and a luxury for those who have the time and money to do it.
Be thoughtful, mindful and smart.
The time you invest now will save you a lot of heartache, embarrassment, and money later on.
So:
Build process analysis into your timelines.
Engage the people who are involved in the current process and who will be involved in it after you make your changes. Get their support and buy-in.
Document the process as it works now, warts and all.
Consider how the current process is likely to be impacted by whatever you're changing.
Consider every single process failure that could occur, how likely it is to occur, and how severe the impact will be if it does occur.
Design the new process to minimize the possibility of failures, particularly those with severe impacts, and
Do a pilot test of the change (or two or three) well before you launch it.
---
Follow the Medium publication "At The Whiteboard" to read all our great articles on How To Crush It At Work!